We Need Your Help!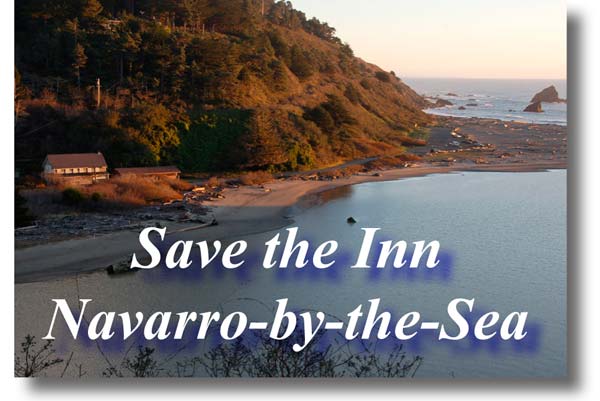 We're at a critical crossroads in our efforts to save the historic Captain Fletcher's Inn at Navarro Beach. Navarro-by-the-Sea Center (NSCR) is a small all-volunteer 501(c)(3) nonprofit working with State Parks to save the two remaining historic structures at the mouth of the Navarro River, and reopen them for public education, interpretation, and research. Thanks to both a planning grant and a construction grant from the California Cultural and Historical Endowment (CCHE), we've been able to complete construction plans to stabilize and save the Inn and move forward with initial construction. This website provides details on our progress to date and goals. Please visit our Planning/Construction—CCHE Grant page for details.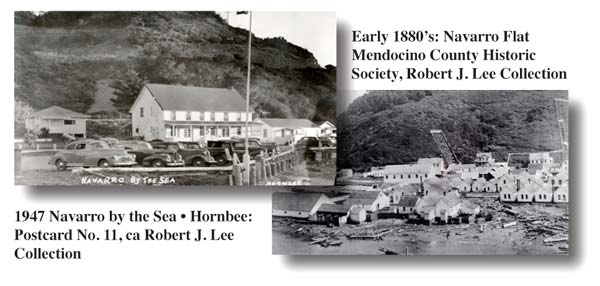 NSCR urgently needs your help in saving the Inn and reopen it as a public interpretive center. Given the current budget crisis, State Parks has no funds to complete the critical stabilization work and renovations, so we're reaching out to the surrounding community and foundations before it is too late. We're seeking donations large and small to complete the stabilization plans and full rehabilitation, and need your support to accomplish this goal. Please visit our How to Help page to find out how you can help us in our efforts to "Save the Inn".
Thanks to an outpouring of support and the generous construction grant from CCHE, NSCR was able to initiate the critical stabilization work on the Inn in spring of 2012. Funded tasks include demolition work, hazardous cleanup of asbestos and lead, a new perimeter foundation and front porch, earthquake structural retrofitting, repair of the siding and repainting, and temporary windows on the ground floor.
Click on this PowerPoint link to see a brief history of Navarro-by-the-Sea, the progress NSCR has made over the past decade, the condition of the Inn before construction began in 2012, and photographs of the construction work this past year and its current condition!
We still have a long ways to go to complete the full building renovation and interpretive displays. This includes funds needed to install a permanent roof, completing interior renovation and painting of the downstairs, rebuilding the fireplace, restoring most of the original upstairs windows, and providing interpretive displays and exhibits inside and outside of the Inn to share the rich cultural and natural histories of the Navarro-by-the-Sea area.
Please help us finish the work necessary to "Save the Inn" and donate your tax-deductible contribution today, or contact us at 707/877-3477 if you have a construction-related skill or building materials that you think we could use as an in-kind contribution. We're almost there, please help us reach our goal. Please make checks out to "NSCR" with a notation to "Save the Inn Fund" and mail them today to NSCR, PO Box 1710, Mendocino, CA 95460.
Thanks to all who have contributed so far! As an all-volunteer non-profit with no paid staff, raising over $600,000 is an amazing accomplishment in itself and it's only been possible because of your generous donations, large and small. And special thanks to the following major donors who have made donations of cash and in-kind contributions valued at $1,000 or more:
Anonymous Donors
Advanced Earthworks in Hopland
Carey & Co Architects in San Francisco
Lori Kaye Landscape & General Contracting in Elk
Max Thelan, Jr.,Oramax Foundation
Mendocino County and former District Supervisor David Colfax
Patricia Jeffery and PLACEMAKERS in Philo and Emeryville
Patrick and Jane Miller and 2M Associates in Philo and Berkeley
RD Beacon of Beacon Light by the Sea
Rosenthal Thornton Construction in Fort Bragg
Rossi Building Material in Fort Bragg